Dannion Brinkley
Born in 1950, Dannion Brinkley is the author of three international best selling books — Saved by the Light, At Peace in the Light, and Secrets of the Light. He is also a internationally known speaker who has appeared on hundreds of television and radio shows. In 1994 his New York Times bestseller, Saved by the Light, was the highest rated made-for-television movie of all time by the Fox Network. Drawing on his three near-death experiences, Dannion speaks to diverse audiences worldwide on topics including Near-Death Experiences, Palliative and Hospice Care, and Complementary and Alternative Healing Practices. In 1997, Dannion co-founded The Twilight Brigade in Los Angeles with a small but dedicated team of experience hospice volunteers and trainers. Since then, more than 5,300 have taken the volunteer training. Dannion has also received dozens of awards for his achievements and volunteer service, including the President's Lifetime Achievement Award for Outstanding Volunteer Service, the VFW Women's Auxiliary Cherished Heroes Award, the Courage and Valor Award from the National Foundation for Women Legislators and numerous VA Awards including the VA Special Secretary's Award and the Heart of Hospice Award, the National Hospice and Palliative Care Association's highest honor.
Brinkley is also controversial. Brinkley told his story to near-death researcher Raymond Moody shortly after it occurred, but details of his account have been questioned by his doctor and various journalists. For example, although Moody said one of Brinkley's afterlife visions of the future later came true, many other forecasts proved inaccurate. Brinkley's claim that he served as a CIA sniper during the Vietnam War has also been challenged by writers who checked his military record (see below for details).
Websites & Background Information
• Dannion Brinkley's NDE (via Brinkley's website)
• Dannion Brinkley's NDE (via near-death.com)
• Wikipedia on Dannion Brinkley
• The Predictions of Dannion Brinkley
• Dannion Brinkley Website
• Dannion Brinkley on Facebook
• The Twilight Brigade
• The Controversial Dannion Brinkley
• Dannion Brinkley Videos (includes ability to download)
Contact Information
Email: TwinSoulMedia@aol.com
Books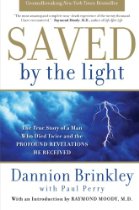 Amazon Description:
"In 1975, Dannion Brinkley was struck and killed by lightning. When he awoke twenty-eight minutes later in a morgue, everything was different. He had visited the afterlife, met thirteen angels, and been given 117 revelations about the future. In the years since, one hundred of the revelations have already come true. In Saved by the Light, now available in trade paperback for the first time, Brinkley shares his incredible story, revealing the truth about the afterlife and providing guidance from beyond about how we should live today."
Secrets of the Light: Lessons from Heaven
At Peace in the Light
The Secrets of the Light: Spiritual Strategies to Empower Your Life…
………….
Ep. 426 FADE to BLACK Jimmy Church w/ Dannion Brinkley: Life After Death LIVE
………….
OMTimes Magazine: Dannion Brinkley: The Secrets of the Light
(download a pdf version of the magazine article)
November, 2014
Listen to the Interview
………….
………….
Near-Death Experience – Dannion Brinkley – Saved By The Light (Movie)
………….
Dannion Brinkley Interview – Near Death Experience 1 of 3
………….
Dannion Brinkley Interview – Near Death Experience 2 of 3
………….
Dannion Brinkley Interview – Near Death Experience 3 of 3
………….
Dannion Brinkley With Lisa Harrison
………….
Dannion & Kathryn Brinkley Talk To Harry Smith About NDEs
…………..
Dannion Brinkley's Near-Death Experiences
By Dannion Brinkley
Due to the near-death experience, my life was shoved under the scientific microscope, and was then catapulted into the spiritual spotlight, from the day I was struck by lightning. Having been raised in the Southern fundamentalist tradition, I had been taught that our reward for living a good life would be redeemed in Heaven. Yet, as a child I had no interest in that far off wonderland where angels were playing golden harps on fluffy white clouds. You see, I had always been into instant gratification! So, whatever was waiting for me, behind some invisible veil, seventy or eighty years down the road, meant little or nothing to me. It neither motivated me to do good works, nor deterred me from being the natural-born hell raiser, which had made me infamous in my hometown, deep in the Carolinas. Like most young people my age, I thought I was invincible; therefore the thought of dying rarely, if ever, crossed my mind. Until that unforgettable evening a raging bolt of lightning decided to teach me the lesson of what a tenuous and fragile mystery life really is.
In September of 1975 I was barely 25 years old, and at the top of my game. I'd returned to Aiken, to spend some time with my family, after being in South America. The word had spread that I was back in town so my telephone had been constantly ringing all day. Just as I sat down to dinner, it rang again. I started not to answer it, but there seemed to be a certain urgency to the tone so, I walked to the bedroom and picked it up anyway. From that day on, I've refer to it as "my phone call from God." I had no idea what hit me as I heard a deafening roar of thunder and felt a searing pain in the side of my head. My entire body was then lifted just below the ceiling and momentarily suspended in the air. Then it was as if I was intentionally thrown back down toward the floor by an incredible force. The invisible forced slammed me onto my bed hard enough to break the frame. My body felt as though it was being incinerated from the inside out. My veins were on fire, and every inch of my body was in excruciating pain. Then I heard my girlfriend, Sandy, yell from the kitchen, "Wow…that was a close one!"
In the following instant, I watched as she came running down the hallway to the bedroom. But I wasn't watching her from the bed. I had lifted out of my body now, and I was viewing the entire scene from above. As fate would have it, she had recently completely a CPR course at work, and so, she started to pound on my chest and breathe into my mouth as she had been trained. It worked! Instantly, I was back in my body experiencing all of the unbearable agony all over again. Then, I lifted out again. From above the scene, once more, I saw my friend arrive at the house, and right behind him was the ambulance. I sat right beside my body on the frenzied ride to the hospital, and amid all the chaos inside the ambulance, I remember looking down at myself and thinking, "I always thought I was better looking than that."
In the emergency room, the attending medical team did more CPR, pounding my chest until they cracked my ribs. Then, they put the electrical paddles to my chest. One doctor even gave my heart an injection of Adrenaline, but it was all to no avail. By this time, all my family had gathered together in the hospital waiting room. And now the doctors had the unenviable job of having to tell them I didn't make it… I was gone. But what they didn't know was where I had gone.
While the orderlies were preparing my body for the morgue, I was off and running on the most extraordinary adventure of my life. I wasn't really sure I was dead; I just knew I was ever so grateful for being out of that intense physical pain. And whatever this was that was happening to me was some really cool stuff. First I found myself surrounded and embraced by a tunnel through which I was moving effortlessly. All around me I could hear the beautiful sounds of seven distinct chimes. Ahead, I could see a light, and as I moved closer, the light became more brilliant. The next thing I knew, I was standing in the Light as a powerful Being drew near. This great Being radiated an intensity of unconditional love and non-judgmental compassion I had never known. Suddenly, and for the first time, I had the sense of being pure spirit, without the heaviness of my physical body. I looked down at my hand and it appeared phosphorescent as the light danced through it. Looking above and below me, I witnessed the presence of other Beings who looked just like me. Some were vibrating at higher vibrations, and some at lower ones. Yet, my attention was quickly diverted when the powerful Being enveloped me and I began to relive my entire life, one incident at a time. In what I call the panoramic life review I watched my life from a second person point of view. As I experienced this I was myself as well as every other person with whom I had ever interacted.
When the panoramic life review ended, despite the many obvious mistakes I had made in my life, I experienced no retribution – no judgment and no punishment. I was the only judge presiding over my day in court! Given time to assimilate my life in retrospect, I was given the opportunity to know, first hand, both the happiness and the sorrow I had created through my actions. I came to the realization that, more often than not, I had lived in a devastatingly selfish manner. My heart was filled with shame and remorse. The impact of that emotional avalanche remains uppermost in my mind to this very day. However, after my time of reflection in the Heavens that day, the Being of Light telepathically conveyed these words:
Who you are is the difference that God makes, and the difference is love.
As the Being moved away from me I began to feel lighter. My pain and guilt lessened and I understood that I had been shown my deeds on Earth, not to harshly impugn me, but rather to lovingly instruct me. Through the panoramic life review I had been given the knowledge of how to correct my life, and use my power of love to make a difference in the world. I was later told that human beings are powerful spiritual beings meant to create good on Earth, and that good starts with small acts of kindness.
I had one more stop to make on my journey through the Heavens before I was to be sent back. The Being next took me to the Crystal City where I met 13 more Beings of Light who appeared much mightier than he. Each one of them emanated a special power or force. For example, it was as if one Being was the epitome of Wisdom, while another was the epitome of Strength. Standing before them all was most humbling. They stood in a line behind a crystal podium in what seemed to be a Great Hall of Knowledge. One by one, the Beings of Light approached me. When they did, a small black box emerged from their chest and sailed toward my face. Before impact, the boxes would open to reveal pictures or what I now call visions, of the future. Initially, it was difficult to understand and make sense of everything I was shown that day. And through the years I have had to tweak my take on a lot of it. However, it is amazing to me still, how much of what I saw, the day I died in 1975, has come to pass over the years. After viewing over one hundred visions, the Beings of Light gave me one last assignment. I was told to create Centers for stress relief on Earth. And then I was told it was time to go back. But I did not want to leave this wondrous place of peace and love. I recall thinking how sad I was to be leaving.
Without time to even finish the thought, I was standing in the hospital corridor with absolutely no clue as to how to get back into my body. I stood there pondering the dilemma for only a nanosecond before I found myself looking up at a white sheet that was covering my entire body. But I could not get up and tell anyone I was alive — I was completely paralyzed. So, I began to blow on the sheet hoping someone would notice I was breathing again. And someone did.
From that moment on, I was engaged in the fiercest battle of my life. I was so angry that I hadn't been allowed to stay in the loving paradise we call, the afterlife. And I was even more enraged that they had sent me back, with all this knowledge and a mission, into a body so racked with pain and damage that it took me two years to learn to walk and feed myself again. When I could finally remember the names and faces of my loved ones, none of them wanted to hear about my journey to the Heavens. They just wanted the whole incident to go away. This strained all of my relationships, and destroyed my love affair with my Sandy. At that point, I thought I would lose my mind. My life had been stolen from me. Now, I just wanted to go Home ~ back to the Heavens.
It was not until I met Dr. Raymond Moody in 1976 that I started to fit the pieces of the near-death puzzle together. Dr. Moody had been researching the phenomenon for several years when he read about my experience in a local newspaper. I believe that as surely as it was my destiny to be struck by the lightning, it was just as surely destiny that brought Raymond to me. For without him and his extensive research data, I most assuredly would have lived out my life in pain, confusion and resentment. Armed with the knowledge Raymond had ascertained through the compilation of hundreds of near-death experiences, I was able to come to grips with my life and find a brand new way of being of service to humanity. I knew there was no such thing as death, and I was ready to spread the word. Soon, Raymond and I were lecturing together on the subject around the world to academic and spiritualistic audiences alike. Finally, I had a life again.
In 1994, author Paul Perry helped me to put my experience into words. Saved by the Light became a New York times best seller, and I appeared on radio and televisions shows from coast to coast. A year later Paul and I wrote the follow up book, At Peace in the Light and the near-death saga continued to captivate readers around the globe. However, I am most proud of my latest book, The Secrets of the Light: Spiritual Strategies to Empower Your Life…Here and in the Hereafter. In this last installation of my Light Trilogy, my life and spirituality have come full circle.
Since being struck by lightning in 1975, I have had two more near-death experiences. As a result, I have been gifted with an incredible wisdom and understanding of life, both here and in the Hereafter. Life is the greatest and most precious gift we could ever be given; I urge you not to take it for granted for a single moment. I have been through the worst of times, and the best of times, in this one life. But as the Rascal Flats song says, "God bless the broken road that led me straight to you." It is my prayer that all I have experienced can be used to assist you in creating a life of love you will one day look back on with pride.
……………
The Last Laugh
By Raymond Moody
1999
EXCERPT:
Two NDEntertainers in particular have scored big hits — Betty Eadie, author of Embraced by the Light, and Dannion Brinkley, who told his story to journalist Paul Perry, who skillfully crafted it into Saved by the Light. The NDEntertainers make an excellent stalking-horse for illustrating some of the principles of playful paranormalism, for the books and the performances of these New Age thanatothespians invite analyses somewhat along the lines of those that literary or theater critics offer about works of fiction or dramatic productions. I must admit that while I find value in using entertainment as an attention-getting tool, a litterary-style criticism of the public presentations of some of the speakers now on tour brings to light some troubling contradictions inherent in that kind of NDEnterprise.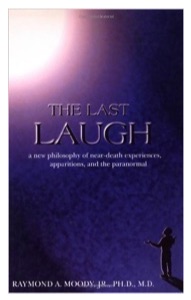 Both Betty and Dannion borrow heavily from techniques of the performing arts to get their message across. Betty even wears an eye-catching costume, a fancy, fringed dress with a touch of Native American style. But I have known Dannion a lot longer, so I am in a better position to offer a commentary on his monodramatic extravaganza.
I met Dannion in 1976, several months after he barely survived being struck by lightning. He told me that while he had been on the verge of death, he entered a realm of light and found himself in the company of luminescent beings. He said these beings had shown him a series of encapsulated visions that he described almost as though they had been film clips. He had been given to understand that they were visual representations of events that were to take place in the future.
Many prophets seem to foresee mostly drastic kinds of unpleasantness, and the majority of Dannion's foreseeings were the typical soothsayer-fare — looming famine, war, economic depression, social disarray.
In the mid-1970s, when I first heard these foretellings, I was smug. As an avid, in-depth follower of current events, I felt sure the world was in for a big shake-up, a conclusion I based on simple extrapolation from the bad news of those days — the nuclear arms race, rampant poverty in the third world, carelessness about the environment, and burgeoning overpopulation — not on psychic warnings. I also knew enough about psychiatry to perceive that most Americans were hiding their heads in the sand about global developments. And I had heard several other near-death experiencers recite their own awesome, end-time visions of gloom and doom that were parallel to Dannion's. I surmised that sometimes, when people realized that they were on the verge of death, their defensive structures collapsed and their thoughts raced ahead from what was then the state of world affairs to make likely inference: a worldwide calamity was in the offing.
Subsequently, however, I admit I have been a bit unsettled by the uncanny accuracy of some of those experiencer's forecasts. In 1975, my friend Vi Horton correctly foretold (from her near-death vision) the exact year, nature, and outcome of the revolution in South Africa. And in April of 1976 Dannion told me that in his vision he had foreseen that in 1990 there would be a breakdown of the Soviet Union and that there would be food riots there. I recall that incident so vividly because what he said struck me as silly and absurd; I took his seriousness about the pronouncement as evidence that the bolt of electricity had disrupted his brain circuitry. Imagine my surprise fourteen years later when the event transpired just as he had forespoken it. There have been many other instances, too, when he issued predictions that seemed totally off the wall at the time, only to be fulfilled later with chilling precision.
Then I must go on immediately to add that I have seen and heard him pronounce many other prophecies, detailing even the exact day, month, or year of their forthcoming, and all in the same preemptory voice and manner of all-confident authority, that never did materialize as he said they would.
Not only that, but he has continued to prophesize ever since his near-death experience took place in September 1975 because he believes that his close call with death empowered him to read minds and to peer into the future. And his display of mind reading is among the best and most convincing I have ever witnessed. Time after time, I have seen folks' jaws drop, or tears well up in their eyes, as Dannion, a total stranger to them, correctly rattles off the details of their personal circumstances, even their deep inner secrets.
For years, I have been baffled by his amazing talent for seeming to know things about others that he seemingly would have no way of knowing. That is why I encouraged him to get his story into print. I introduced him to the persons who arranged for its publication.
But I had envisioned a different presentation; for a long time, I have wanted to see Dannion in a face-off with the Amazing Randi or other sigh cop, such as Dr. Ray Hyman, a psychologist who specializes in putting claims of telepathic powers to the test. I still hope that some day such a confrontation will come to pass. Since the release of his book, though, a couple of parapsychologically minded investigators have assessed Dannion's skills, and they profess to be as perplexed by him as I am.
Whatever the eventual outcome of the wrangling about Dannion among parapsychologists, sigh cops and funda-Christians, however, it won't make any difference to the many admirers and fans who have gathered around him. They will continue to believe he can read minds and foresee the future. Nor is Dannion ever bothered for a minute by any of his misforeseeings, for when prophecies fail, fresh ones soon are heard tripping from his tongue to replace the worn-out ones.
Playful paranormalists can give a much better formulation of the walking conundrum that is Dannion Brinkley than is likely to come out of any dysbeliever battles. What has always interested me most about Dannion's tale is not his near-death experience per se, since it is one of a multitude of similar ones, but, rather, its flashy accouterments. He captivates others by dressing up his account in the trappings of a charismatic, bedazzling, and enmazing personality. He is an enlightening example of a kind of person who has been of great importance in the history of the paranormal, namely, the individual who is able to interweave several popular strands of paranormal mythology into one life story.
Quite apart from his near-death experience, his prophecies, and his mind-reading, Dannion represents a confluence of a number of distinct themes that historically always have found willing audiences among seekers of paranormal pleasure. Examing these themes closely brings us a good insight into not only who people listen to about the paranormal, but why.
The Common Denominators
First, there is the matter of the lightning. Then there is the item about a bed. Both lightning and beds have figured predominantly for centuries in the best traditions of the paranormal.
As I've already indicated, Dannion's peri-mortal adventure began in a flesh-sizzling flash of lightning, and that by itself was enough to dynamize his tale with paranormal meaning, because for almost the whole of human history, lightning has been interpreted as a supernatural manifestation, and no one is impervious to it holdover paranormal symbolism.
Dannion's claim that a bolt of lightning endowed him with inexplicable talents is by no means unique. Throughout the world, especially in tribal cultures, there is a folk belief that those who walk the earth after being struck by lightning have paranormal abilities. In some traditions, practitioners who are initiated into their vocation in this way are respected as the most powerful of all shamans…
…
I have brought up Dannion Brinkley because Dannion's saga is a case in point. His story is told with an inscrutable, idiosyncratic use of language that is inseparable from his charismatic personality style. In other words, he certainly has a dramatic flair. In addition, he is using (by chance, it would seem) at least two storytelling imageries — lightning and a bed (more about which later), which appear historically in tales of the paranormal. Finally, his style of storytelling is important to this analysis.
Dannion is a huge, muscular man, and he is charmingly overbearing. He can easily dominate conversations, and loves to be the center of everyone's attention. He holds listeners spellbound, on the edge of their seats, but as long as I have known him, I have never been able to track his train of thought. He speaks in a rapid-fire manner that makes it impossible for all but the quickest to get a word in edgewise. His inimitable manner of oration is a word-blizzard.
A respected Cambridge scholar wrote a tify hypotyposis of the count de St. Germain that perfectly captures Dannion's style. According to E. M. Butler, the count "cut a dazzling figure and mystified everyone by his incognito, by dropping mysterious hints, by refusing to commit himself to the possession of powers which he nevertheless seemed to be exercising before their eyes, and by his indecipherable personality."
Now for the bed part.
Dannion claims that during his near-death experience, otherworldly beings showed him a design for an electronic bed with healing powers. They instructed him to build this device and to install it in his healing centers. I have seen several models of this bed from beyond. They are comfortable recliners with built-in headsets that play tape-recorded music through the body by bone conduction. When I tried one of the beds, I found its effects indistinguishable from hypnagogia.
All that aside, Dannion's story about a supernatural settee interests me because it illustrates a bedrock principle of playful paranormalism: It replays the same old favorites again and again over the centuries, the same stock characters show up in slightly different situations, but, overall, the paranormal manages in every succeeding season to make its familiar dramas seem new and exciting.
Viewed historically, the paranormal performs somewhat like a repertory theater. For instance, the tale of "an uncanny man with a mysterious couch" is deeply embedded in the history of paranormal and other periparanormal amusements. The particulars of saints' sofas or of holy men's mats often take on significance in their stories.
Solomon slept in a magical bed aflutter on every side with angels. Moses was set afloat in a crib woven from reeds. The infant Jesus slumbered in a manger. Then there are Indian fakirs' hystrichomorphic cots and Asklepio's klini…
…
To sum up, Dannion Brinkley's story appeals because it tries so many colorful threads of popular paranormality together into one entertainment package.
I want to make it clear that I am writing in the abstract, and that, personally, I find Betty and Dannion to be lovable and endearing people who do good things for others. I understand, for example, that Dannion recruits volunteers for hospice during his dramatic and exciting talks with large audiences, and gets quite a few of them. I don't question either of their motives for a second. I am merely pointing out here what makes them listened to.
On balance, I expect, NDEntertainment and NDEism will prove to be more a helpful than a harmful development. They will be kept in check by the medical technology that ensures a continuing stream of new arrivals back from round trips to the near hereafter. The high incidence and high prevalence of near-death experiences are a corrective to any possible NDExcesses of NDEists or NDEntertainers.
……………
A Conversation With Dr. Raymond Moody
By Kathryn M. Peters
From 1999
EXCERPT:
http://www.inlightimes.com/archives/1999/11/moody.htm
Kathryn Peters: I sense in your new book, The Last Laugh a bit of frustration over the way in which the near-death experience, and the paranormal are being treated or perhaps the word is 'exploited' today. You refer to Betty Eadie and Dannion Brinkley (two of the most popular lecturers on the metaphysical circuit) as ND Entertainers. This comes across as less than complimentary. Is that the way you intend it, Dr. Moody?
Raymond Moody: It's not at all intended as un-complimentary. It is just a description of my impressions.
Kathryn Peters: You compare Mr. Brinkley's experiences to those of leading characters in history. You compare the fact that he was struck by lightning, he possesses an overtly charming personality, and he has developed a 'super-natural settee' likened to the saint's sofas and holy men's mats. With that understood, the question I pose is this: Do you think it possible that Dannion Brinkley, like those to whom you compare him, has been sent in order to assist in the dawning of a new spiritual age of understanding of death and the realms beyond?
Raymond Moody: Well, no, I do not think that of any one person more than I think that of all of us. I wouldn't put anybody up on a pedestal like that. Everybody is here in their own capacity. I just don't think in terms of gurus.
Kathryn Peters: Without the need for putting anyone on a pedestal or worshipping gurus, is it not possible to consider, if we each come with our own capacity, those out there doing the work like Dannion, Betty and others who have undergone an NDE, are here to collectively push this new spirituality into the forefront as part of their divine task?
Raymond Moody: I think that is a wholly unanswer-able question.
Kathryn Peters: Dr. Moody, if I handed you a magic wand giving you the power to alter public interest as well as scientific research regarding the paranormal, what changes would we witness as a result of your will?
Raymond Moody: I have a very definite answer to that. If I could wave a magic wand, I would help people by teaching them critical thinking. I think that would liberate people more than anything else.
………….
Dannion Brinkley Comments On Raymond Moody's The Last Laugh
http://www.inlightimes.com/archives/1999/11/moody.htm
Kathryn Peters: Dannion, have you had a chance to read Dr. Raymond Moody's latest book, The Last Laugh and if so, would you please give me your opinion of it?
Dannion Brinkley: Yes I have read it, as a matter of fact, and I think it is fabulous! It's a very good book which was truly needed.
Kathryn Peters: Then as you know, Dr. Moody refers to you and your colleague and friend, Betty Eadie as ND Entertainers. Can you give me a response to that?
Dannion Brinkley: Well, I think it's absolutely true! I take what Raymond said as a compliment for I take tremendous pride in what I do. Nothing makes me happier than to know that due to my own personal near-death experiences I can take on a subject matter, death, which is undeniably a terrifying proposition in our culture, and I can genuinely entertain people with my insights and humor. I consider it a gift from God to be able to lessen people's fear of dying with laughter the way I do. And I'm actually told I even inspire them along the way. For me, it doesn't get better than that. Then to have a leading research expert in the field, like Dr. Raymond Moody, recognize and acknowledge my contribution is indeed humbling.
Kathryn Peters: In The Last Laugh, Dr. Moody also compares you to some pretty remarkable historical figures, Dannion, how does that make you feel?
Dannion Brinkley: Wow, I find it such a true honor to have Raymond equate me in stature to giants in history such as Asklepios and Solomon as well as the lightning shamans of Peru. I sincerely thank him. This book is remarkable for it comes from not only a brillant scholar but from one of the funniest human beings I have ever met. Long live the Rainman.
…………..
Blinded By The Light?
By Roy Rivenburg with help from Paul Dean
Los Angeles Times
March 24, 1995
The complete article is also posted here.
EXCERPT:
[Dannion] Brinkley says his life review covered "at least 6,000 fistfights" that he had between fifth and 12th grades. That averages out to two brawls a day, nonstop for eight years, making Brinkley the Wilt Chamberlain of schoolyard pugilism.
He also says he was a Marine Corps sniper during the Vietnam War, dispatched to Cambodia and Laos to assassinate enemy officers and politicians. But military records show that Pfc. Brinkley was never a sniper, never saw combat, indeed never left the United States during his 18 months in the service.
He was a truck driver stationed in Atlanta.
Brinkley declines to offer any evidence of overseas duty, saying the government is covering up his record because it is classified. But several sources inside and outside the military (including ex-Marines involved in the same covert operations Brinkley claims a role in) say his tale is full of holes and that the so-called secret files are all public.
…………………
Blinded By The Lies: Tracking Dannion Brinkley's Continued Fabrications
By Jason Korbus
February 1, 2012
Dannion Brinkley tells a lot of tales to a lot of people. Some of them are even true. For instance, it is a fact that, in the early evening of September 17th 1975, he was struck by lightning while on the phone at his house. But the stories that came out of that — the events related to his alleged out-of-body experience — are predicated upon a pack of lies.
In his book, "Saved By the Light," Dannion recounts his story and embellishes upon the details. He claims that he was dead for 28 minutes. During this time, he floated above his body, watching as his wife attempted to revive him in the moments after the lightning strike. He says he heard a paramedic pronounce him dead. Later, he talks about traveling to heaven, where he met and spoke with angels, saw a crystal city and cathedral of light. And then, he woke up in the hospital just before being taken to the morgue.
It is an incredible story; one that saw his book at the top of the New York Times bestseller list, as well as spawning a highly rated television movie. Dannion has since used his notoriety to become a psychic, charging $250 for a half hour reading, and a spiritual advisor, lecturing to large groups of people around the world about the "secrets" he found in the light — secrets that you, too, can share – if only you can afford tickets at places like the MGM Grand in Las Vegas. But if his story were true, we can reasonably expect that he would have told a similar one in the days following his injury. But it's not, because he didn't. In fact, he told a remarkably different story at the time, and continues to change the details to this day when confronted.
Carl Langley was a newspaper reporter for the Augusta Herald at the time of Dannion's ordeal. He interviewed him, and in the September 19th 1975 edition, published a story about the incident titled "Phone Call Almost Cost Him His Life." The story as Mr. Brinkley told it then is dramatically different than the one he tells now in his books and interviews. Remember how Dannion said he was dead for 28 minutes, and the paramedic pronounced him dead? Langley's newspaper article says otherwise:
"Frantically, Mrs. Brinkley began pounding away on her husband's chest, stopping only to grasp his tongue and pull it away from his windpipe so he could breathe.
"I was out for a few minutes, and she saved my life," Danny said. With breathing restored, Mrs. Brinkley called the paramedics."
How long did Dannion, or Danny as he was called then, say he was out for? "A few minutes." Who saved his life? His wife. And it all happened before the paramedics even arrived!
But there's more. Remember, Dannion also tells people that he woke up in the hospital later, after having traveled to heaven and talking to angels. But that is definitively contradicted by Dannion's own doctor, who was interviewed by investigative journalist Jon Ronson in the film, "Reverend Death" (watch clips from this film below). Dr. Gilmore Eaves says he was at Dannion's side within an hour of his brush with lightning. Was Dannion terribly hurt? Was he talking about his incredible Out-of-Body Experience?
"When I saw him he was completely lucid," Dr. Eaves said. He tells Ronson that he read stories later about how Dannion Brinkley had been pronounced dead and how he recalled a sheet being pulled over his head. But as Dr. Eaves says, "That's just not true." Nor did he ever tell him about seeing a light or seeing a cathedral.
In the film, Ronson actually goes to see Brinkley himself, showing him the article by Carl Langley in the Augusta Herald. Brinkley laughs it off, explaining that he was young and embarrassed and, "wasn't gonna start ranting and raving about a near-death experience." He states that it is true that his wife, by pounding on his chest, did bring him back to his body, but that then he left it again. That is a dramatically different account; one that seems clearly invented on the fly after being cornered with his earlier statements.
But the film "Reverend Death" came out in 2008. It is three years later now, and Dannion has had some time to make up a new version of what happened. In a video posted on his website on May 18th of 2011, Dannion now claims to not remember much about the days of the events in question, which is funny since he has never had problems remembering in radio and television interviews before. Dannion says now that he was paralyzed for "6 or 7 days," and couldn't talk. So did Langley just invent the quotes in his article when he spoke with him the day after the lightning strike? Did Dr. Eaves have an imaginary conversation with a "completely lucid" Dannion Brinkley at the hospital? If Dannion's newest story of not remembering details and being paralyzed and unable to talk is true, why didn't he tell this to Ronson during the filming of "Reverend Death"? It is a complete and total contradiction to give interviews to newspaper reporters that your wife saved you after a few minutes, then write books claiming you were dead for 28 minutes and spoke with angels, to then saying your wife did save you but then you left your body again immediately after, then saying you don't remember the details, to then saying everyone else is lying about everything except you because, hey, you were paralyzed and couldn't talk at the time. It is also interesting that he has waited until after Mr. Langley and Dr. Eaves have passed away to say all this…
……………
Dannion Brinkley Exposed
…………………