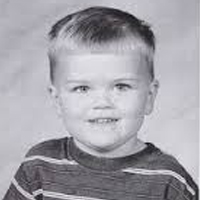 Colton Burpo
Colton Burpo was the four-year old son of a small town Nebraska pastor who during emergency surgery slipped from consciousness and claims to have entered heaven. He survives and begins talking about being able to look down and see the doctor operating and his dad praying in the waiting room. The family didn't know what to believe but soon the evidence was clear. Colton said he met his miscarried sister, whom no one had told him about, and his great grandfather who died 30 years before Colton was born, then shared impossible-to-know details about each. He describes the horse that only Jesus could ride, about how "reaaally big" God and his chair are, and how the Holy Spirit "shoots down power" from heaven to help us. Colton's message is that heaven is a real place, Jesus really loves children, and be ready, there is a coming last battle.
Websites & Background Information
• 'Heaven Is For Real' Website
• 'Heaven Is For Real' on Facebook
• 'Heaven Is For Real' on Twitter
• Wikipedia on 'Heaven Is For Real'
• 'Heaven Is For Real' Dominates Best-Seller Lists
• A Little Boy's Story of His Trip to Heaven and Back
• Colton Burpo Videos (includes ability to download)
• More Colton Burpo Videos (includes his mother and father)
Books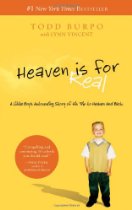 Amazon Book Description
"Heaven Is for Real is the true story of the four-year old son of a small town Nebraska pastor who during emergency surgery slips from consciousness and enters heaven. He survives and begins talking about being able to look down and see the doctor operating and his dad praying in the waiting room. The family didn't know what to believe but soon the evidence was clear.
"Colton said he met his miscarried sister, whom no one had told him about, and his great grandfather who died 30 years before Colton was born, then shared impossible-to-know details about each. He describes the horse that only Jesus could ride, about how 'reaaally big' God and his chair are, and how the Holy Spirit 'shoots down power' from heaven to help us.
"Told by the father, but often in Colton's own words, the disarmingly simple message is heaven is a real place, Jesus really loves children, and be ready, there is a coming last battle."
Heaven Changes Everything: Living Every Day with Eternity in Mind
Amazon Book Description
"Todd and Sonja Burpo's almost-four-year-old son Colton made an unforgettable trip to heaven and back during the darkest, most stressed-out days of their lives. Times were tough, money was scarce, and the bills, frustrations, and fears were piled high.
"How did Colton's visit to heaven change things for them individually and as a family? And what does any of this mean for you and your life?
"Todd, and for the first time ever Sonja and Colton, from their perspectives, share what has happened since the release of their New York Times bestseller, Heaven Is for Real. Through their own experiences, and after hearing from thousands of the more than eight million readers who have shared how the story has affected them, they show you how believing heaven is for real will help you survive hardships here on earth, including the death of a loved one or the loss of a child through tragedy, miscarriage, or even abortion."
…………
In January of 2014, child near-death experiencer Alex Malarkey declared that he fabricated his near-death experience:
"I said I went to heaven because I thought it would get me attention. When I made the claims that I did, I had never read the Bible. People have profited from lies, and continue to. They should read the Bible, which is enough. The Bible is the only source of truth. Anything written by man cannot be infallible."
Malarkey's story appears in the best selling book "The Boy Who Came Back from Heaven: A Remarkable Account of Miracles, Angels, and Life Beyond This World".
In response to Malarkey declaring that he lied about his childhood NDE, near-death experiencer Colton Burpo posted the following statement on his website: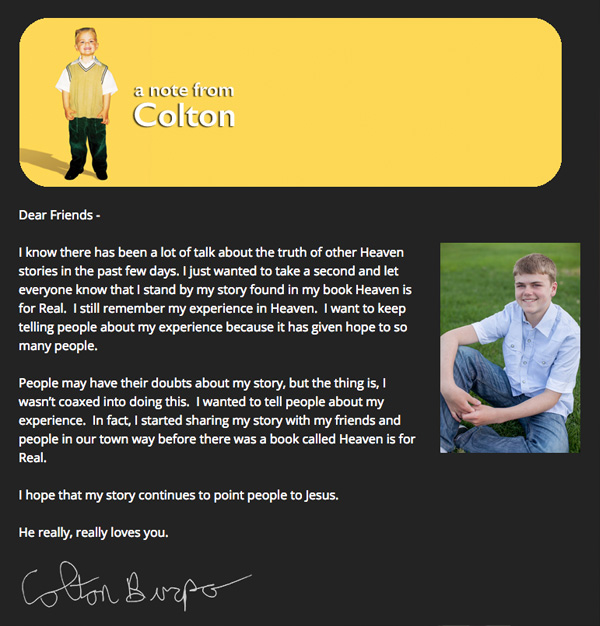 …………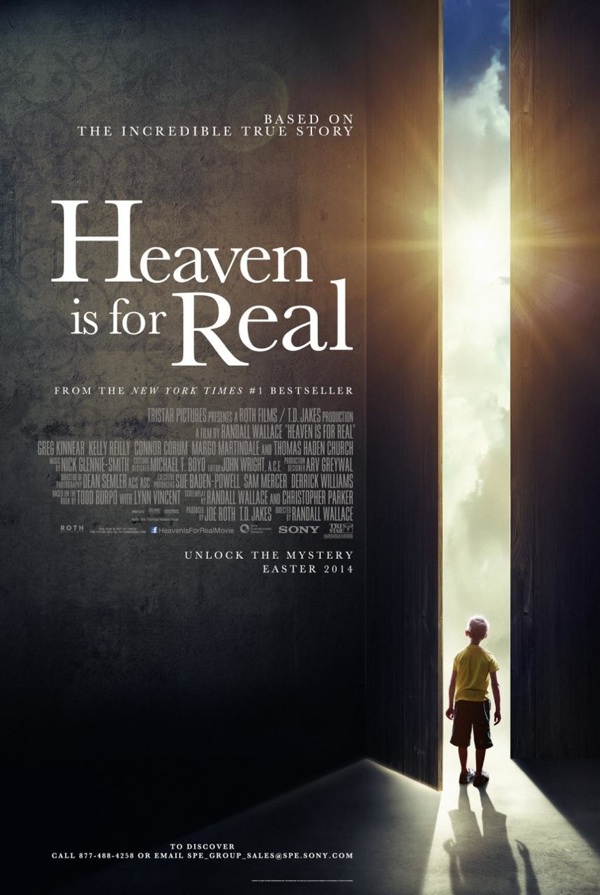 …………
Movie About Colton Burpo
Release Date: April 16, 2014
Plot Summary:
Based on the #1 New York Times best-selling book of the same name, "Heaven is for Real" brings to the screen the true story of a small-town father who must find the courage and conviction to share his son's extraordinary, life-changing experience with the world.
The film stars Academy Award nominee and Emmy award winning actor Greg Kinnear as Todd Burpo and co-stars Kelly Reilly as Sonja Burpo, the real-life couple whose son Colton (newcomer Connor Corum) claims to have visited Heaven during a near death experience. Colton recounts the details of his amazing journey with childlike innocence and speaks matter-of-factly about things that happened before his birth … things he couldn't possibly know. Todd and his family are then challenged to examine the meaning from this remarkable event.
Randall Wallace of "Brave Heart" fame is the writer/director.
Click here for additional background information on the movie.
…………
…………
…………
…………
…………
Boy Who Claims He Died And Went To Heaven Is Getting His Own Movie
By Billy Hallowell
The Blaze
August 14, 2013
Colton Burpo's story has been told incessantly through a multitude of media appearances and his father's popular book, "Heaven Is for Real." The boy, now 13, was only four-years-old when he claims to have visited heaven during a near-death experience in 2003. Now, his story is slated to gain even more traction, as it is getting the Hollywood treatment and coming to the big screen in early 2014.
Colton Burpo, the Boy Who Claims He Died and Went to Heaven Is Getting His Own Hollywood Movie Photo Credit: Thomas Nelson/Todd Burpo The movie, which began shooting July 17, finishes filming this week. It stars Greg Kinnear, who plays Todd, and Kelly Reilly, who plays Sonja, Colton's mother.
Perhaps most notably, the film is directed by Randall Wallace, the man who wrote the screenplay for "Braveheart" and who directed "We Were Soldiers."
As TheBlaze has reported in the past, while in heaven, the young boy claims he saw Jesus and came in contact with relatives who passed away before he was born. The most captivating revelation stemming from Colton's alleged visit, though, was his insistence that he met a sister his parents never told him about — a baby that his mother lost to a miscarriage.
…………
…………
…………
…………
…………
…………
…………
…………
…………
Heaven is for Real Small Group Bible Study by Todd Burpo
January 1, 2013
…………
MEET THE BOY WHO SAYS HE VISITED HEAVEN AND SAW JESUS
By Michael Inbar
Today.com
March 21, 2011
After a burst appendix nearly cost 4-year-old Colton Burpo his life in 2003, his parents were thankful just to have him alive and well. But when he opened up about his brush with death a few months later, they were shocked when he described a very vivid trip to heaven, and spoke of matters about which he had no apparent way of knowing.
During an automobile trip, when Sonja Burpo asked him about his memories of being in the hospital, little Colton replied: "Yes, Mommy, I remember — that's where the angels sang to me." A sweet answer, to be sure — but then Colton made his parents' jaws drop when he told them about sitting in Jesus' lap, watching his parents while he lay seemingly near death, and meeting his great-grandfather.
But most poignantly, Colton described meeting a sibling in heaven — even though he had no way of knowing that his mother had miscarried two years before he was born, since his parents had never told him.
Jesus and John the Baptist
Todd Burpo began telling of his son's heaven-sent visions from the pulpit of the Crossroads Wesleyan Church in Imperial, Neb., where he serves as pastor. Word of mouth spread, and the family landed a book deal. The book — "Heaven Is for Real," written by Todd with co-writer Lynn Vincent — has become a best-seller, with some 1.5 million copies in print since its release in November.
Appearing live on TODAY Monday with Sonja and Colton, who's now 11, Todd told Matt Lauer he understands that naysayers may believe Colton's story is a little too heavenly to be true — initially, so did he and Sonja. "At first we were surprised; we never anticipated to talk to our son about these things," Todd told Matt Lauer.
"We didn't share at first, and then once we started sharing, people were amazed," Sonja Burpo added. "They were encouraged by what we were sharing with them."
Colton was stricken with appendicitis shortly before his fourth birthday. Family guilt was heavy — for five days he lay getting sicker and sicker with what the family believed was stomach flu, which had previously hit Colton's older sister Cassie.
Little Colton nearly didn't make it: He lay in a hospital bed for 17 days. When he finally rallied, the family rejoiced — but they were floored when, months later, the boy began matter-of-factly describing what he had experienced when he was in between life and death: seeing Jesus dressed in royal purple, meeting John the Baptist, having angels sing to him to ease his anxiety.
The Burpos believed these were things Colton could have gleaned from his Bible studies. But he also told his mother he saw her talking on the phone in another room while he was having surgery, and saw his father praying in a small room, all while he was seated in Jesus' lap.
"What caught my attention was he could tell me where I was while he was in surgery," Todd told Lauer. "The surgeon couldn't tell me that, the nurses couldn't, my wife couldn't tell me where I was praying. But he could tell me."
Shocking revelation
Colton also spoke of meeting a long-departed relative in heaven, telling NBC News: "I was just sitting by the Holy Spirit and then this guy comes up to me and says, 'Are you Todd's son?' I say yes, and he says, 'Well, I'm his grandfather.' "
Colton said that everyone in heaven has wings. On Monday, he described his great-grandfather "Pops" as being "very big, huge wings, curly hair, a big smile, and he was very nice."
But the real shocker came when Colton told his mother, "Mommy, I have two sisters." Sonja told her son that he had to be referring to his oldest sister, Cassie, and his cousin Traci, but he responded: "No — I have two sisters. You had a baby die in your tummy, didn't you?"
Sonja told Lauer the family had never uttered a word about the miscarriage to Colton — and what's more, they never even learned the sex of their miscarried child. "It was a private hurt that we didn't even share with our friends," Sonja said, adding Colton's revelation was at first "shocking, but then a relief that she's OK, which we didn't know she was a she."
In a subsequent TODAY segment Monday, Sonja filled in Colton's description of his meeting with his sister: "He told us what she looked like, and she wouldn't stop hugging him. And she doesn't have a name."
"When he told us about his sister in heaven, that we hadn't told him about, [it was] another one of those 'holy cow' moments — OK, he can't make this stuff up, he can't invent this; no memory was planted," Todd told Lauer. "But the peace that came over us, and the healing, like, 'Wow, I have a daughter in heaven waiting for me' — I think a lot of people need that type of hope and healing, too. And I think that's what a lot of people are finding when they hear Colton's testimony, to know what they have to look forward to."
When Lauer asked Colton what heaven looked like, the 11-year-old replied, "Well, there's a lot of color. There are a lot of people and a lot of angels."
In his second segment later on Monday, Colton gave Kathie Lee Gifford and Hoda Kotb some additional details — such as the fact that there are no old people in heaven. "Nobody wears glasses, [and] you're in like your 20s, 30s."
Todd Burpo told The New York Times that the family is donating much of the money they make from the book sales. As for Colton, he's mostly happy his story is helping people.
"People are getting blessed, and they're going to have healing from their hurts," the boy told the New York Times. "I'm happy for that."
…………
EXCERPT FROM 'HEAVEN IS FOR REAL'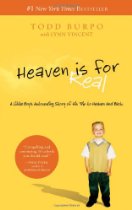 PROLOGUE
Angels at Arby's
The Fourth of July holiday calls up memories of patriotic parades, the savory scents of smoky barbecue, sweet corn, and night skies bursting with showers of light. But for my family, the July Fourth weekend of 2003 was a big deal for other reasons.
My wife, Sonja, and I had planned to take the kids to visit Sonja's brother, Steve, and his family in Sioux Falls, South Dakota. It would be our first chance to meet our nephew, Bennett, born two months earlier. Plus, our kids, Cassie and Colton, had never been to the falls before. (Yes, there really is a Sioux Falls in Sioux Falls.) But the biggest deal of all was this: this trip would be the first time we'd left our hometown of Imperial, Nebraska, since a family trip to Greeley, Colorado, in March had turned into the worst nightmare of our lives.
To put it bluntly, the last time we had taken a family trip, one of our children almost died. Call us crazy, but we were a little apprehensive this time, almost to the point of not wanting to go. Now, as a pastor, I'm not a believer in superstition. Still, some weird, unsettled part of me felt that if we just hunkered down close to home, we'd be safe. Finally, though, reason  — and the lure of meeting little Bennett, whom Steve had told us was the world's cutest baby — won out. So we packed up a weekend's worth of paraphernalia in our blue Ford Expedition and got our family ready to head north.
Sonja and I decided the best plan would be to get most of the driving done at night. That way, even though Colton would be strapped into his car seat against his four-year-old, I'm-a-big-kid will, at least he'd sleep for most of the trip. So it was a little after 8 p.m. when I backed the Expedition out of our driveway, steered past Crossroads Wesleyan Church, my pastorate, and hit Highway 61.
The night spread clear and bright across the plains, a half moon white against a velvet sky. Imperial is a small farming town tucked just inside the western border of Nebraska. With only two thousand souls and zero traffic lights, it's the kind of town with more churches than banks, where farmers stream straight off the fields into the family-owned café at lunchtime, wearing Wolverine work boots, John Deere ball caps, and a pair of pliers for fence-mending hanging off their hips. So Cassie, age six, and Colton were excited to be on the road to the "big city" of Sioux Falls to meet their newborn cousin.
The kids chattered for ninety miles to the city of North Platte, with Colton fighting action-figure superhero battles and saving the world several times on the way. It wasn't quite 10 p.m. when we pulled into the town of about twenty-four thousand, whose greatest claim to fame is that it was the hometown of the famous Wild West showman, Buffalo Bill Cody. North Platte would be about the last civilized stop — or at least the last open stop — we'd pass that night as we headed northeast across vast stretches of cornfields empty of everything but deer, pheasant, and an occasional farmhouse. We had planned in advance to stop there to top off both the gas tank and our bellies.
After a fill-up at a Sinclair gas station, we pulled out onto Jeffers Street, and I noticed we were passing through the traffic light where, if we turned left, we'd wind up at the Great Plains Regional Medical Center. That was where we'd spent fifteen nightmarish days in March, much of it on our knees, praying for God to spare Colton's life. God did, but Sonja and I joke that the experience shaved years off our own lives.
Sometimes laughter is the only way to process tough times, so as we passed the turnoff, I decided to rib Colton a little.
"Hey, Colton, if we turn here, we can go back to the hospital," I said. "Do you wanna go back to the hospital?"
Our preschooler giggled in the dark. "No, Daddy, don't send me! Send Cassie … Cassie can go to the hospital!"
Sitting next to him, his sister laughed. "Nuh-uh! I don't wanna go either!"
In the passenger seat, Sonja turned so that she could see our son, whose car seat was parked behind mine. I pictured his blond crew cut and his sky-blue eyes shining in the dark.
"Do you remember the hospital, Colton?" Sonja said.
"Yes, Mommy, I remember," he said. "That's where the angels sang to me."
Inside the Expedition, time froze. Sonja and I looked at each other, passing a silent message: Did he just say what I think he said?
Sonja leaned over and whispered, "Has he talked to you about angels before?"
I shook my head. "You?"
She shook her head.
I spotted an Arby's, pulled into the parking lot, and switched off the engine. White light from a street lamp filtered into the Expedition. Twisting in my seat, I peered back at Colton. In that moment, I was struck by his smallness, his little boyness. He was really just a little guy who still spoke with an endearing (and sometimes embarrassing) call-it-like-you-see-it innocence. If you're a parent, you know what I mean: the age where a kid might point to a pregnant woman and ask (very loudly), "Daddy, why is that lady so fat?" Colton was in that narrow window of life where he hadn't yet learned either tact or guile.
All these thoughts flashed through my mind as I tried to figure how to respond to my four-year-old's simple proclamation that angels had sung to him. Finally, I plunged in: "Colton, you said that angels sang to you while you were at the hospital?"
He nodded his head vigorously.
"What did they sing to you?"
…………