Betty J. Eadie
Betty (Jean) Eadie (born 1942) is a prominent American author of several books on near-death experiences (NDEs). Her best-known book is the #1 New York Times bestselling book, Embraced by the Light (1992). It describes her near-death experience. It is one of the most detailed near-death account on record. It was followed by two other works: The Awakening Heart (1996), also a best-seller, and The Ripple Effect (1999), published independently. Eadie was raised in Nebraska and on the Rosebud Indian Reservation in South Dakota. Part Native American, she grew up in troubled family circumstances, dropped out of high school to care for a sister, then returned to complete it, and later pursued a college degree. She works today in counseling and hypnotherapy with volunteer work and speaks to gatherings about her experiences.
Websites & Background Information
• Wikipedia on Betty J. Eadie
• Betty J. Eadie Website
• Betty J. Eadie on Facebook
• Description of Eadie's NDE on Near-Death.com
• Betty J. Eadie on YouTube
• Betty J. Eadie Videos (includes ability to download)
Contact Information
Email: betty@embracedbythelight.com
Contact Page (staff, webmaster, customer service, booking manager)
Book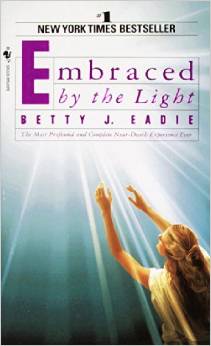 Embraced by the Light (1992)
Amazon Description:
"Near-death experience of Betty J. Eadie guides the reader to the Spirit World and her return to earth and the powerful message of God's everlasting love."
Other Books
Embraced By The Light: Prayers & Devotions for Daily Living (2001)
The Ripple Effect (1999)
The Awakening Heart (1996)
………….
………….
[youtube]https://www.youtube.com/watch?v=8zQ3_KJhC64[/youtube]
………….
…………
………..
…………
………….
Betty J. Eadie's Husband Joe Speaks Out
Betty's husband Joe gives his witness to Betty's transformation after her NDE, and to his awakening to Embraced By The Light as it seemed 'dictated' to her to write.
………….
…………..